Featured Leader: Traci Pitman
Traci Pitman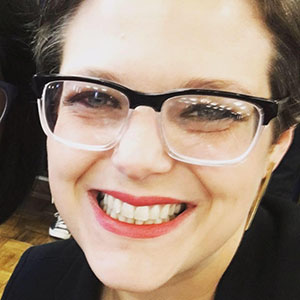 Design & Creative Services Coordinator
Texarkana College
LT Class of 2013
What have you learned most about making a difference in Texarkana (or about your opportunity for community leadership) from being a part of Leadership Texarkana?
For me, the biggest, greatest takeaway from Leadership Texarkana is that your community is what you make it. We have choices when it comes to our relationship with our community. If we don't like something about it, we can complain to anyone who will listen, disparage the people we think are in charge, post on Facebook, and sit back and wait for it to get better. Or, more importantly, we can take action and do something to make it better for everyone. When I was part of the Leadership Texarkana class, the organizers did a fabulous job of shining a light on the people across all different sectors in our community who have devoted their lives to making this a great place to live. Complaining is easy. Changing your community for the better is tough but rewarding. The burden of creating a better community belongs to all of us, not just well-known leaders and elected officials. LT teaches you to think "we," not "they."
What does leadership mean to you?
As a graphic designer, you learn pretty quickly that there are multiple solutions to any design problem. I often say I spend 10 hours trying things that don't work and one hour on the design that does end up working. Leadership, I think, is similar. No great success stories exist independently of hard work, setbacks, dogged determination, teamwork, and challenging your fears. That last hour of work is meaningless without the first ten. As Facebook COO Sheryl Sandberg wrote in Lean In, "What would you do if you weren't afraid?" I think leaders embrace the idea that if it's not even a little bit scary, it's probably not worth doing. While some people see a failure as a natural stopping point, leaders consider it a new beginning.
For what community organization or issue or opportunity do you have a passion and invest your time, talent or money?
I've worked at Texarkana College for almost seven years now, and every day I see more and more how an affordable education changes lives and creates opportunity. Community colleges are so important because they're the entry point to higher education for so many people – in the state of Texas, more than half of college freshmen start at a community college. I've been honored to be part of a statewide campaign for community colleges called #TXsuccess. Each week, we push out information and infographics to a network of community college marketers across the state so that we can tell audiences in every corner of Texas about the great work our community colleges are doing. Our hope is that our legislators and our communities will see these persistent reminders and that we can help them understand the mission and value of community colleges. We post new content on Tuesdays, and you can track our campaign using the hashtag #TXsuccess—we encourage anyone who believes in the work of community colleges to join in and share. I'm also excited to work on our regional efforts to achieve 60x30TX, which is the state's higher education goal for 60% of Texans ages 25-34 to have a college credential by the year 2030. I encourage you all to go to www.60x30NETX.com and watch the short video we produced with the help of some incredibly talented kids from Texas Middle School's 6th Grade Center. It is a great introduction to the importance of achieving 60x30TX!
If you had one wish and could make a difference of significance in Texarkana (your small corner) what would you do with that one wish and why?
I hope that by telling Texarkana College's story, and telling the stories of our inspiring students, I can help people in the community see the benefit of post-secondary education. I wish I could help people understand that when we talk about the need to increase the number of people with a college degree or certificate, people often assume that we mean everyone needs a bachelor's degree—but that's not at all true. There are excellent careers that pay high wages and benefits that require a 5-week training program, or a one-semester or one-year certificate. It's true that not everybody needs a 4-year degree, but it's also true that a high school diploma simply isn't enough to be competitive in today's job market.
What do many people not know about you that you would to share with us? What are some of your passions and hobbies?
I'm a roller derby dropout. I practically grew up on wheels and I think roller skating is the best cardio ever (I'm so dismayed that we no longer have a rink) but I'm not a fan of toe stops or bruises. I'm also an avid reader, when I have time. I recently had the opportunity to hear NPR reporter Ari Shapiro speak at a conference, and he described how reading fiction has helped him be a better reporter by allowing him to step into the shoes of people in other cultures through the power of storytelling. A love for reading and immersing oneself in a good story is something I hope my husband and I can pass on to our kids.
What do you most love to do in Texarkana? What do you most love about Texarkana, in general?
I love dining at our wonderful local restaurants—some of my favorites are Pecan Point, Flour Child Fine Foods (the chicken salad is perfect, and so is the patio on a sunny day!) and Twisted Fork. I also love taking my children to local parks, and I love that Texarkana has events like last weekend's wine festival—it was lovely! It creates a wonderful sense of community.
Traci Pitman, a Texarkana native, is Texarkana College's Design & Creative Services Coordinator. She earned her Master of Science in Corporate & Organizational Communication from Northeastern University and is a graduate of the LT Class of 2013. Traci currently serves as web and social media director for the Texas Association of Community College Marketers. She and her husband Casey live in Redwater and have two children; Lily Beth (2) and Charlie (5).