T-Town Top 10 Things to do in Texarkana October 12, 2020 – October 20, 2020
SEE MORE AT GOTXK.ORG/CALENDAR
Including opportunities to Learn – to Share – and MORE!
PUT THE SPOTLIGHT ON YOUR EVENTS: POST YOURSELF!
Build the goTXK.org calendar as Texarkana USA's go to source for all that's going on!

*Reminder – Stay COVID Safe! Don't forget to wear your mask and watch your distance.

1. Early Voting Begins
Tuesday, October 13
Early voting begins this week! Dates and hours may vary based on where you live. Find a polling place here!
 
2. Small Business Expo
Thursday, October 15
The 2020 Small Business Expo has now been moved to October this year! Get signed up for a booth or sponsorship asap! Fun for the whole family! Email nhaywood@texarkana.org for more information. Corner of 3rd and Texas.

3. Project Sew
Tuesday, October 13
No matter your skill level, come learn to sew with instructor Crystal Hamilton. Sewing Projects to choose from include Envelope Pillows, Tote Bags, or Kimonos. Register here – http://ce.texarkanacollege.edu

4. Karaoke with D&M
October 14 – 15
Located at Fat Jacks Oyster and Sports Bar. Learn more!

5. Fall Movies in the Park
Thursday, October 15
Here is the line-up for the Fall Movies in the Park. All movies start at approximately 7PM. Hope y'all can join us on Thursdays in October. Learn more!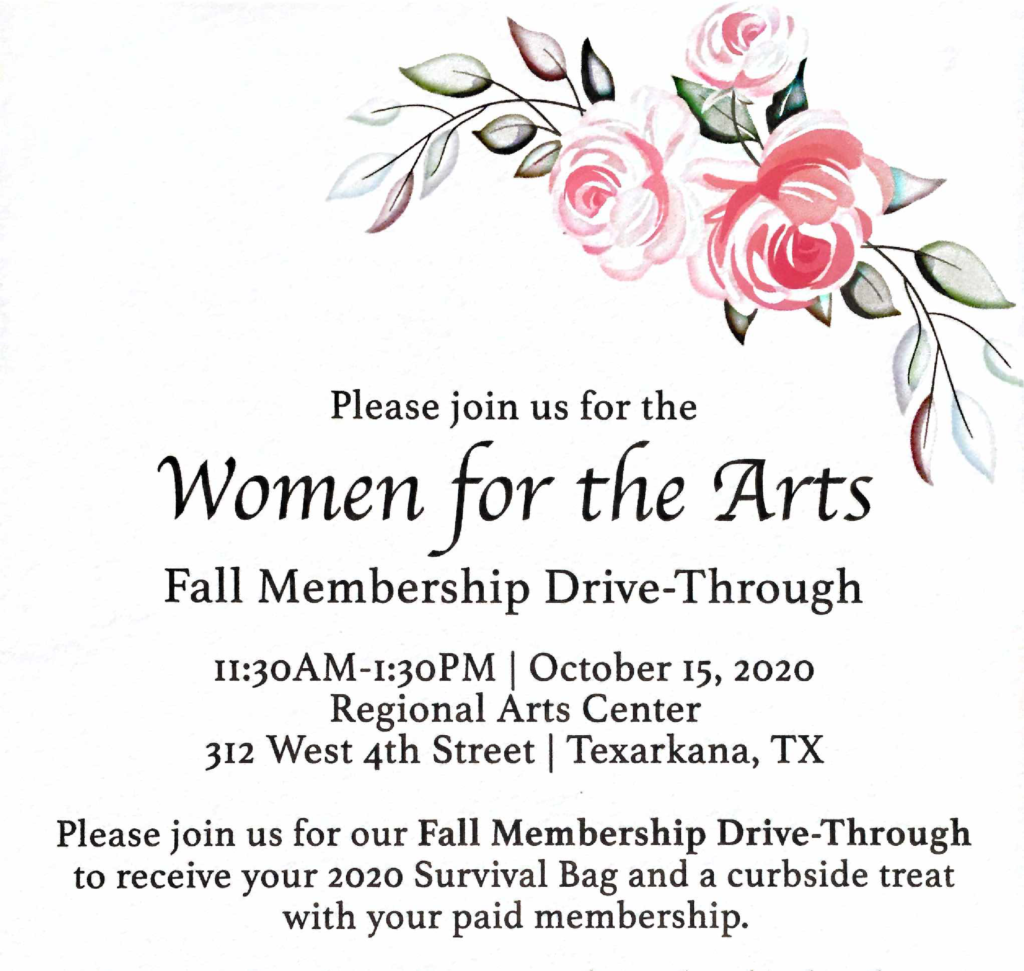 6. Women for the Arts Drive-Through Fall Membership Drive
Thursday, October 15
Please join us for our fall membership drive-through to receive your 2020 survival bag and a curbside treat with your paid membership. Connect with WFA here!

7. Murder at the Disco!
Thursday, October 15
Please join us for a Night of Disco and Murder! We are hosting a Murder Mystery to raise money for The Texarkana Down Syndrome Society! 100% of the proceeds will go towards educations, camps, awareness, training and more!
TICKETS are $55 each or $100 per couple if pre purchased… $65 each at the door.
To participate and play a role in the game you must pre register, hurry to make sure you get the part you want! Learn more!

8. Fall Gallery Hop
Saturday, October 17
Enjoy a fun day of visiting multiple participating locations for art and fun. Ride bikes while visiting downtown locations. Have a glass of wine at the destination restaurant – Verona's Wine Cellar. More details soon – Jeff Brown for the Home, Joel Wright Art Gallery, TRAHC – Texarkana Regional Arts, 1894 Gallery, Primal Flow Studios, Arts on Broad, Joseph Raymond Fine Art, and Verona's. Learn more!

9. Live Trivia at Twisted Fork
Saturday, October 17
Grab a group of friends and make plans to attend Trivia Night this Saturday at Twisted Fork! Learn more.
10. Friday Night Football
Enjoy local sports in person – or streamed live. Check out Texarkana Game Day for the latest. Watch here!
And Don't Forget

Submit YOUR events – virtual or real – to the GOTXK Calendar
Help us all to stay connected and submit your virtual events here!


Go to goTXK.org/calendar to check out ALL of the events being held this week in Texarkana USA!